Experience Philip Keil live: motivating, inspiring, activating!
What can leaders and teams learn from professional aviation? Being a highly-experienced airline pilot and an international well-demanded keynote speaker, Philip Keil is among the most extraordinary speaking professionals within Germany, Austria and Switzerland.
This hand-on know-how has already been absorbed by well-known business associations, German hidden champions and global conglomerates. He trains managers in the flight simulator and is a regular expert in the media.
Maximum thrust for your success!
Leading with focus and clear communication.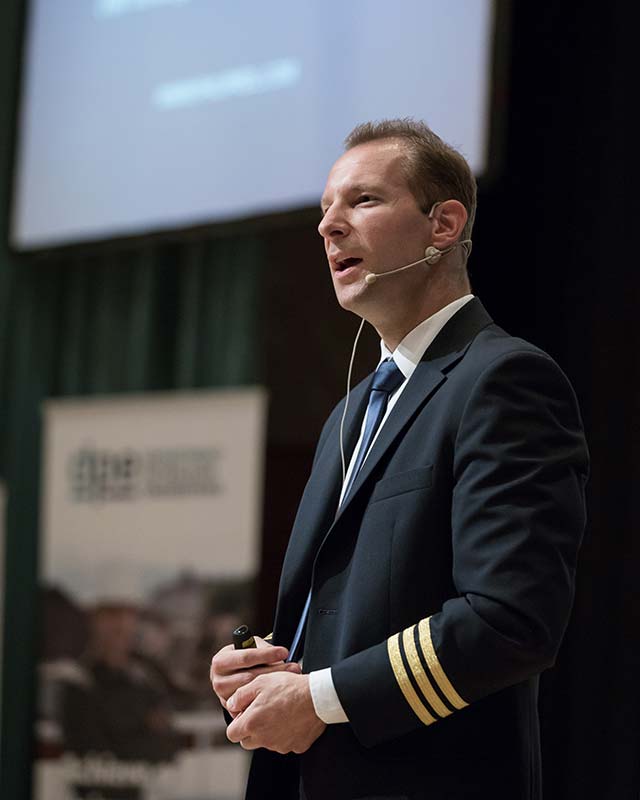 In this motivating keynote, Philip Keil combines surprising findings of the NASA research with his own experiences of more than 8.000 flying hours on four continents. He produces bright pictures and inspires his audience, to define new team goals and individual standards.
Experience, what "Good Airmanship" means for your company and which key role the leader takes.
 How you can quickly recognise errors and learn from them even in the business cockpit
 No radio silence ever again – how to communicate clearly and remain in the loop
 When experience becomes a risk and how to benefit from this knowledge
Crash or landing on the dot?
The team makes the difference!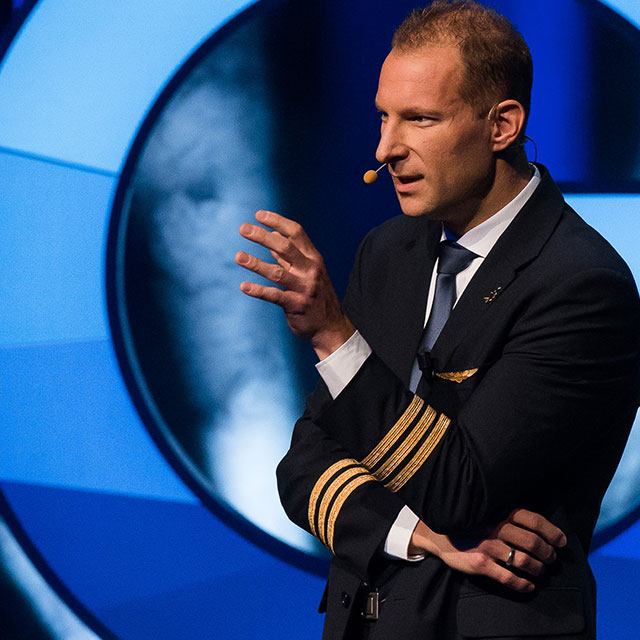 The training of professional pilots is just 10% about the flying skills. The remaining 90% is about leadership competencies such as problem solving, effective teamwork and managerial responsibility. Apart from strict hierarchy, crews nowadays are required to react promptly and coordinated to changing situations. In the "company-cockpit" likewise!
Get excited about fascinating insights in the work patterns of professional pilots and about valuable take-aways for your teams and leaders.
What make teams often fail and which NASA tools every "captain" should know
How you lead target-focused and decide confidently during turbulence
Which cockpit methods stimulates your crew to peak performance
The strategies of professional pilots:
Confident decision-making in turbulent times.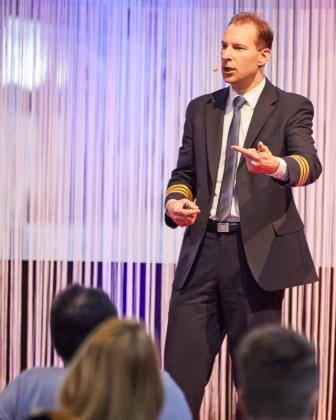 Philip Keil has experienced, how essential (for survival) concrete strategies are in challenging situations. In this enthralling keynote, the pilot opens the cockpit door for his audience. What actually happens, when an emergency case requires immediate action? How do we manage to unfold our full potential under pressure?
Colorful and exciting Philip Keil transfers his expert knowledge to the turbulent daily business life of his "passengers". Fasten your seat belt!
What you can adopt from pilots to make confident decisions
Anticipatory acting: How you always stay "ahead of the airplane"
How the most important button inside a cockpit will change your heading likewise